Corporate Designs and Gifts
Our services for business customers range from adding extra features (names, dates, extra texts, different colours and other characters) on existing designs to tailor-made bespoke designs and patterns. 
Here are examples of some of our projects:

Retirement Platter for Worley Parsons

Plate, Coaster, Mug and Decoration for the Friends of the Watermill Theatre in Bagnor near Newbury. These products can be ordered at the Theatre or bought through our webshop.

Bespoke sports (left) and arts (right) plates for Dean Close School, Cheltenham and Diamond Jubilee mug for St Martin's School, East End (middle).

Products for National Trust's Sandham Memorial Chapel in Burghclere, Hampshire.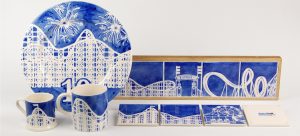 Bespoke rollercoaster design for KumbaK applied on a variety of shapes. The designs are used for gifts to hand out at trade events, special customer gifts, gifts for employees, mugs for coffee and tea during meetings and one-off gifts for special events.
How we work:
We can add features (text/images) to existing designs or we can develop a fully bespoke design on existing shape of even source a new shape (from our own trusted UK suppliers).
We require at least 2 weeks time from the moment of briefing for the first design proposals and quotes to be presented.
You will receive a choice of two different design proposals with no-obligation quotes and one evaluation/correction session.
There will be a one-off design and development cost.
The products will have similar pricing as the trade prices of our exiting collection (please contact us for trade price information).
We're happy with low order volumes from only 1 item to high numbers; in the 1,000s of products.
Once the design has been finalised it can easily be replicated onto other different shapes.
The "boring" stuff:
The unique designs are made exclusively for the client. We won't sell these products on to a third party. Unless we come to an agreement with the client to market and sell the products ourselves. In this case we will waive the design cost.
A no-obligation quote will be sent off after receiving a design brief, with estimation of design costs, tooling costs and product prices.
A proforma invoice will be made and payment is expected up front before any production starts. After the first order normal trade terms will apply.
Because of copyright rules and regulations we can't reproduce or incorporate designs from other sources.
For any enquiries please contact us via email (info@roelofsrubens.co.uk) or telephone 01635 253671 or fill in the form below.